Overview
SMAN Refrigerant Manifold 3-port l Wireless
Rougher, tougher, readier than ever.
Para ligares o teu SMAN® Digital Manifold ao teu SR47 por favor certifica-te que estás a usar o software mais recente. Descarregar Software
Super rugged construction
Data logging
Temperature compensated system tightness test
Sends and receives wireless readings
Protected thermocouple jacks for pipe and outdoor temps
R32 ready
Water resistant (IP54)
Designed for Performance
Knowledge, power and experience are packed into the newly designed SMAN® Refrigerant Manifolds. Years of feedback from A/C and refrigeration specialists is combined with Fieldpiece's laser focus on continuous improvement to bring you the toughest, most advanced digital refrigerant manifold on the market.
From the extremely rugged overmold casing, reinforced hook, and hermetically sealed sight glass, to the wireless capabilities, data logging, and tightness test, the SM380V is built so you can do your job easier, faster and better.
Simply Strong
The new SM380V is simply strong. The heavy duty casing, reinforced hook, water resistance, impact resistant screen, strategically placed thermocouple ports, and hermetically sealed sight glass, all ensure the SMANs are ready to withstand the rigors of field use.
Packed with Knowledge
The SM380V is designed to work the way you do with advanced features to streamline your job and provide your customers with the answers they need.
Data Logging
• Stores up to 9 jobs internally
• Easy download via USB port
• Displays % free storage space before logging begins
• Logs up to 7 days (168 continuous hours)
Tightness Test
• Check for leaks after repairs or installations
• View pressure differential over time
• Timer tracks duration of test
• Temperature compensated with SL temp to avoid false positives
Customizable
• Adjust auto power off duration
• Adjust back light duration
• Set high and low vacuum alarms
• Select each unit of measurement individually
Receives Wireless Measurements
Add Job Link Tools to your arsenal and get live readings directly on the SMAN manifold screen from the Job Link Psychrometers (JL3RH), Job Link Pipe Clamps (JL3PC), and SRS3 Refrigerant Scale. Place pipe clamps in the perfect location. Monitor and record live refrigerant usage for precise recovery, charging, and documentation. View live air measurements and calculations while making adjustments.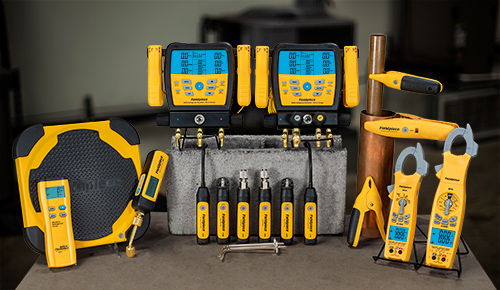 Increase Professionalism with Job Link® System App
Streamline and simplify your call even further with the Job Link System App. See your measurements up to 300 meters (1000') away on your mobile device. Document your work and provide professional reports, including refrigerant weight usage, by simply connecting to the Job Link System app. Helps to reduce call-backs and increase profits.
• View measurements on SMAN and/or in Job Link App
• Monitor and record refrigerant weight
• Direct 300 meters (1000') wireless range (no transmitter needed)
The SM380V is also available in Europe and is R32 ready. Model number SM380VINT. For specifications, please click here.

Includes:
SM380V
(2) TC24 Wired Type-K Pipe Clamp Thermocouple
(1) ATA1 Type-K Bead Thermocouple with Clip
(1) ANC11 Padded Drawstring Case
Specifications
Display: LCD (5 inches diagonal)
Backlight: Blue (adjustable duration)
Low Battery Indication: is displayed when the battery voltage drops below the operating level.
Over Range Display: OL for pressure, – – – – for temperature
Auto Power Off: 30 minutes of inactivity (adjustable)
Maximum Manifold Pressure: 800 Psig (5500 kPa)
Battery Type: 6 x AA alkaline
Battery Life: 350 hours typical (without vacuum, backlight, and wireless)
Radio Frequency: 2.4 GHz
Wireless Range: 1000 feet (300 meters) line of sight
Distance decreases through obstructions
Data Port: Micro USB (for extracting data logs or updating firmware)
Operating Environment: 32°F to 122°F (0°C to 50°C) at <75% RH
Storage Environment: -4°F to 140°F (-20°C to 60°C) at <80% RH (with battery removed)
Temperature Coefficient: 0.1 x (specified accuracy) per °C (0°C to18°C, 28°C to 50°C), per 1.8°F (32°F to 64°F, 82°F to 122°F)
Weight: 4.03 lbs (1.83 kg)
Water Resistant: Designed to IP54
Encontre o seu distribuidor mais próximo
e veja onde comprar!
Recolha o equipamento novo no seu distribuidor mais próximo.
Recommended Products