Why Should You Become a Fieldpiece Partner?
Partnership
Fieldpiece is continuously growing and always looking for new partners in the HVACR industry. We love working with devoted and passionate organizations because we recognize a lot of ourselves within the people of said organizations.
Making the job of the HVACR professional easier, faster and better is the goal we strive for every day. It might seem like a simple goal, but it captures the exact message we want to distribute to everyone within the industry. On top of that, we wholeheartedly believe that everyone in the HVACR community can agree on this topic. Especially as a distributor, we imagine you only want to recommend the best tools on the market to your clients.
We are here to help you with that. By partnering up with Fieldpiece, you—the distributor—will not only supply tools that are designed specifically with the technician in mind, but you will also receive benefits that will help you as the distributor.
As an authorized distributor, we officially recognize the center as one of our partners. During the time of our partnership, Fieldpiece will support the distributor to promote sales of the Fieldpiece Family. Materials will be provided, such as a display to promote the tools and at the same time boost the professional look of your distribution center. What customer doesn't love to see all the tools sold lined up and ready to be held in their hands?
Besides materials, digital support will also be provided by Fieldpiece. Features such as our Partner of the Month blog posts are sent out on a regular basis to all of our Fieldpiece users.
Social media and e-mail are the main platforms on which your distribution center may be featured and a lot of potential customers are able to be reached through these ways.
You will receive the newest price list in time and will be notified in advance when promotions are coming up. For both distributor and customer, we want to make the journey as pleasant as possible.
And last but not least, as a partner of Fieldpiece, you will be the first one to hear all about the newest tools within our family. And isn't that what it's all about in the end? Being able to supply the best tools in the industry?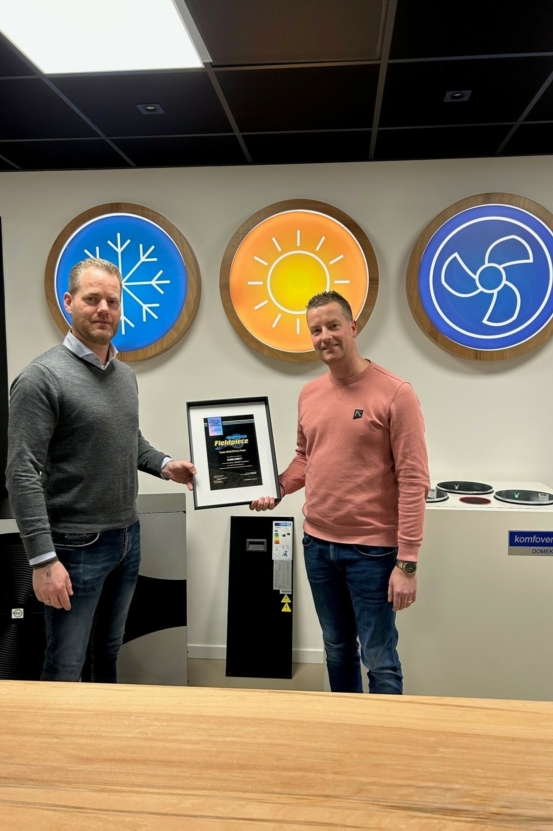 Maintaining and nourishing a good partnership is at the top of our priorities too.
Without our partners, we wouldn't be the company we are today. We wouldn't have the support we have today. We wouldn't be able to produce the tools we make today.
Interested in a partnership? Contact us via europe@fieldpiece.com or contact one of our sales agents.