Overview
Digital Multimeter
Everybody loves the classics.
Temperature up to 760 ºC (1400 ºF)
400 AAC with included clamp
Capacitance up to 200MFD
Works with accessory heads
Microamps for flame diode test
Frequency for motor setup
Classic Style Digital Multimeter with Temp, MFD, Microamps, Frequency and Backlight – The "Biggest Bang for Your Buck" – LT17A
This manual ranger covers the parameters and ranges you need for most HVACR applications. The LT17A meter measures current, resistance, voltage, capacitance, frequency, continuity, and temperature. Test leads store in the meter body and, with the probe tips removed, connect to any Fieldpiece accessory head. The body is made out of durable ABS plastic and comes with a bright blue backlight for poorly lit test areas. Get great accuracy using the included k-type thermocouple and an easily accessible temperature calibration pot.
The testing capabilities packed into this classic style meter is its main competitive advantage. In addition to all of the ranges, it has direct temperature measurement and works with all of our accessory heads to make it one of the most complete classic style meters available for HVACR professionals.
Works with Fieldpiece Accessory Heads
Continuity Indicator
400AAC
Capacitance (MFD)
Temperature
Microamps DC – Flame Rectification Tests
Frequency
Silicone Leads with Detachable Probe TipsLTCaseStand
Tilt Stand and Magnetic Hanger
Bright Blue Backlight
MAX/MIN hold
Record the minimum or maximum reading during a measurement. To exit the MIN/MAX function, hold the button for more than 2 seconds
Volts AC
Volts DC
Resistance (Ohms)
Diode Test
Rugged ABS case with rubber boot
Even though it's a classic style meter it still fits naturally in your hand
Auto power-off (APO) to conserve battery life
Includes:
Classic Style Clamp Meter with Temperature – LT17A
Deluxe Silicone Test Leads – ADLS2
400A Amp Clamp Accessory – ACH4
Wrap Tab Bead Tip Thermocouple – ATB1
Short Alligator Lead Extensions – ASA2
Mail Pouch-Style Instrument Case – ANC5
9-Volt Battery (installed)
Operator's Manual
Specifications
Auto-off: off after 25 minutes to extend battery.
Indicators: Continuity beeper (<100 Ω). Low bat.
Overrange: "OL" or "-OL" is displayed.
Operating environment: 32 to 122°F (0 to 50°C) <70%RH
Storage environment (with batteries removed): -4 to 140°F (-20 to 60°C) <80%RH
Altitude: 6561.7 feet (2000m).
Battery life: 150 hours typical.
Battery type: 9V NEDA 1604 type
Stated accuracies: 74°F±8°F (23°C±4°C), 75%RH
Temperature coefficient: 0.1 x (specified accuracy)1°F/°C (32 to 66°F (0 to 19°C), 82 to 122°F (28 to 50°C))
DC Voltage Ranges: 200mV, 2000mV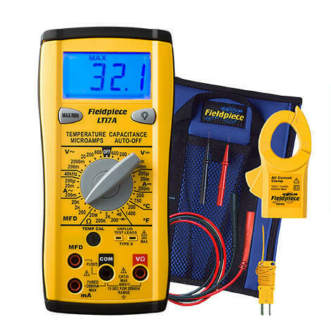 Encontre o seu distribuidor mais próximo
e veja onde comprar!
Recolha o equipamento novo no seu distribuidor mais próximo.
Recommended Products