SC480
Clamp meters
Fieldpiece has many products to offer to the technician. From vacuum pumps to recovery machines, we're passionate about helping the technician do their job easier, faster, and better.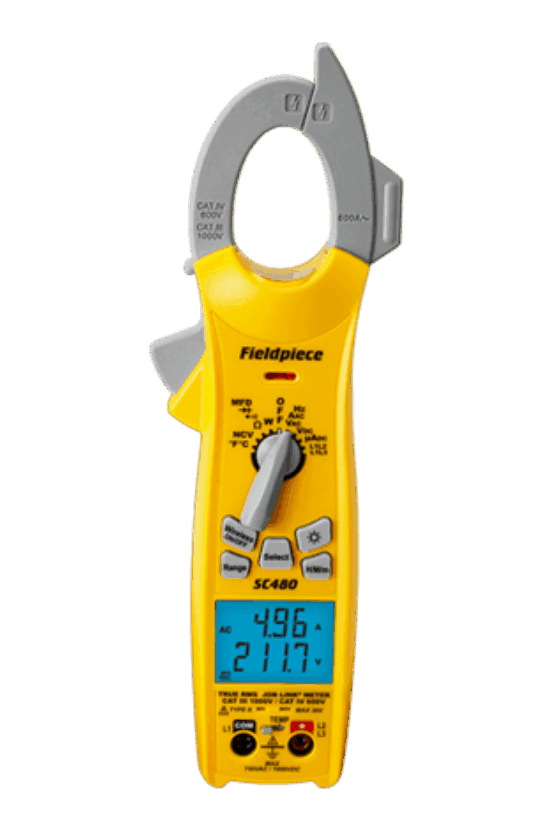 Big tools are not the only ones in our family of products and the power of our smaller products cannot be overlooked. That is why we would like to introduce you to our Clamp Meter, the SC480INT.
An electrical clamp meter is a tool used to measure electrical signals such as voltage, amperage, capacitance, resistance, and more. The jaw of the clamp wraps around a wire to measure the amperage and frequency, and Fieldpiece's clamp meter—all our tools that have SC in the name—are designed to measure electrical signals from small circuits to large commercial HVACR systems.
The SC480INT is designed to help the technician in the field. For the convenience of the technician, the SC480INT is able to connect wirelessly to the Job Link App so electric measurements can be accessed in real time on the job site. And not only are these real time measurements, but they are also truly accurate. To ensure accuracy in real time, Fieldpiece has included a Low Pass Filter (LPF) in the clamp meter so that the technicians can access and utilize the information on the job site. Besides, the SC480INT is also extremely versatile. From large commercial HVACR systems to small circuits, Fieldpiece's clamp meter can be used for every job. Especially the latter, small circuits, has been thought about in the design for the SC480INT. Because of the regular lead tips that can be swapped for super thin Molex tips, technicians are able to get readings on hard-to-reach circuitry too.

Just like every other product in our family, Fieldpiece has designed the clamp meters to make the life of the technician easier, better, and faster. We believe that our clamp meter could benefit every technician in the field work more efficiently and more accurately. Interested in knowing more? Contact your local distributor to check out our SC480INT!